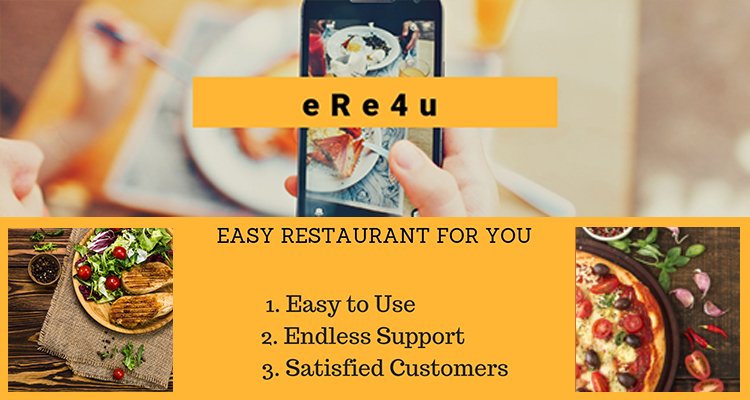 eRe4u - Restaurant Pos System manages all the important aspects of your food business. It is a cloud-based software that works offline as well. It enables you to perform transactions and operations to improve guest experience & ease the job for your staff. It helps to function activities in your food business effectively. eRe4u - Restaurant Billing Software is capable to manage all your orders at the same time whether online or offline.
eRe4u - Point-of-sale Solution offer:
Outline & Analysis

Stock Management

Staff Management

Loyalty Program For Customers

Theft & Wastage Prevention
Learn more about eRe4u - Restaurant Pos Software India
There are thousands of happy and satisfied users of eRe4u- Restaurant Pos In India. From generating K.O.T in 2 seconds to receiving feedback from guests for improving your services, eRe4u does it all for you.
Restaurant Pos Software is mandatory for all those food businesses who are seeking to provide an amazing guest experience, control cost, and increase their revenues.
eRe4u - Restaurant Billing System gives your visitors a very unique experience. You can access your data from anywhere through your mobile with eRe4u - Restaurant Pos Software. It comes up with a user-friendly design so that anyone can use it even though they haven't used a billing pos software earlier.
These days, you may find that guests and visitors at restaurants have high expectations for fast and satisfactory services and eRe4u - Pos System assures optimum customer service quality.
eRe4u - Gst Billing Software is quick, reliable, & advanced point-of-sale software for your food business. With the help of eRe4u - Restaurant Billing System, you can focus on what truly matters to your visitors and the business.
The centralized control over all essential elements of your food business with the help of eRe4u - Restaurant Billing + Stock Management software keeps you integrated and consistent with every task. All the important information and reports of your business are made available to you at any point with eRe4u - Restaurant Pos System. The set-up and installation are also quite easy and can be done in a few minutes.
You can spot the areas or departments with errors and rectify them to produce better results with eRe4u - Restaurant Management Software. You can also accept payments through your preferred merchants or gateways.
Purchase, Install & Login now to get started with eRe4u - Billing Software For Restaurant In India.
eRe4u will allow you to execute all the aspects of a food/restaurant business from table service, food, beverage, membership program, marketing promotions, online orders, take away, home-delivery and beyond. You can easily fulfil all your food business requirements by using eRe4u - Restaurant Management System. The access to customer information helps in target marketing and promotion of your business.
eRe4u - Restaurant Pos is designed by a team of experts with more than 10 years of experience in the Food point-of-sale industry. You can evaluate your business performance every day to see what works best for your restaurant.
You can request a demonstration of eRe4u - Restaurant Pos Software to see how it could benefit your food business. It is a modern solution to integrate your business with technology. The pos system can be accessed by multiple systems & users as well.
eRe4u - Restaurant Point Of Sale gives your business innovative advantage, lower cost, outstanding customer service, high-security, and more through a single platform.
GET STARTED: eRe4u - Restaurant Pos
Request Demo: eRe4u - Billing Software
Contact Support: eRe4u - Built With Gst