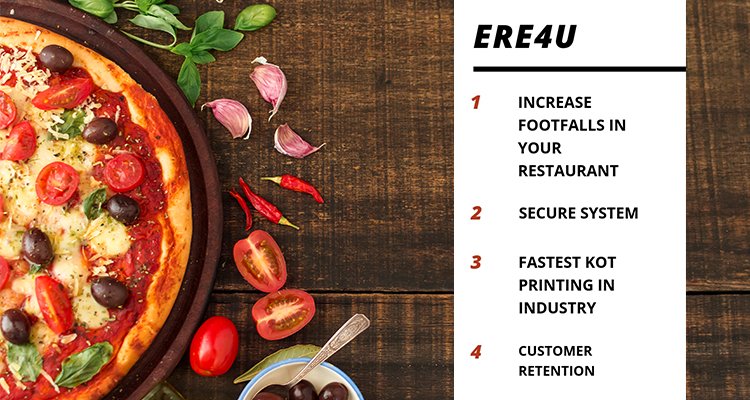 Smart Management of your restaurant enterprise leads to an increase in profits.
Most of the restaurant owners fail to do so because of the daunting experience of inventory management and customer expectations. If the inventory management system is proper you can reduce costs and wastage. eRe4u saves time, easy to use, built with GST and gives you robust control over your food business.
Hard work does not ensure success when it comes to managing your food business. eRe4u - Restaurant Billing Software helps to track various aspects of your food business to ensure effectiveness and efficiency at your business premises. It is capable to serve all type of restaurants including the additional features for each type of food business that could be customized as per your requirements.
There is an increased demand for automation tools in various retail sectors of business due to an increase in the customer expectations for saving time and getting a pleasant experience of the places they visit. eRe4u - Billing Software For Restaurants In India assist in monitoring daily consumption and requirements of your food business. It enhances accurate budgeting and financial structure of your food business.
It gives your customers a Fine-Dine experience, keeps an eye on inventories and eliminates theft.
eRe4u - Restaurant Management Software is the one-stop solution for all the process of your food business that requires restaurant management applications. It also helps to keep you notified if any particular item in stock is low on availability. You can keep important units of your food business documented on eRe4u - Pos to avoid any errors, miscalculations, and confusions.
You can respond to your customers real fast with eRe4u - Pos Software even in rush hours of high occupancy at the restaurant.
Its key features include billing, stock management, reporting, recipe management, food/supplies, KOT, track orders, touch & click base, table management, manage transactions, accounting, home-delivery, take away & much more. ​​​​​​​
eRe4u- Fastest Pos In India is specifically designed for all categories of food business such as bars, restaurants, coffee shops and other forms of food outlets. It increases staff efficiency and customer delight at the same time. You can check any misappropriations that could happen while you are unavailable at the restaurant premises as eRe4u - Restaurant Billing System is compatible with any device thus it can be accessed using your mobile or tablet from any location.
Easy Restaurant For You is a popular restaurant POS software In India with more than 5000 users and constantly increasing in numbers. Visit www.ere4u.in to know more or
Call: (+91) - 9893544430
E-mail: sales@ere4u.in