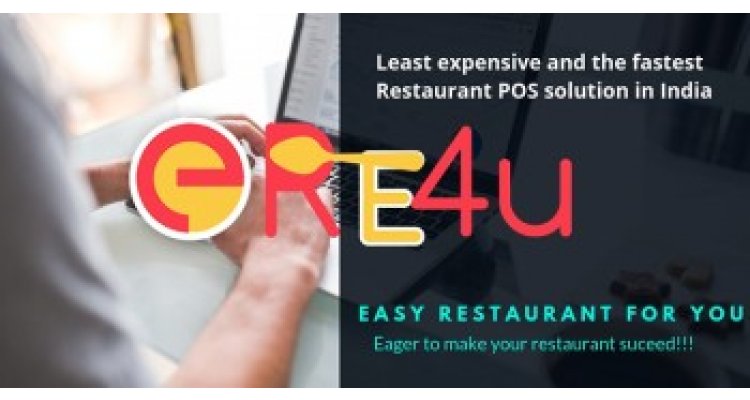 In the event that you have made your mind to set up a restaurant, it is imperative for you to consider the integration of a restaurant billing software with the end goal to keep up the operations of your business seamless and hassle-free. A great degree of restaurant owners tend to opt for billing software of low cost. However, you are ought to understand that that would not be a great decision. Low cost billing software for restaurants comes with limited features which may need frequent updates and even replacement within short span of time.
We would like to inform you that, Ere4u is one of the best and cost-effective restaurant billing software with a large number of features. With this post, we are going to provide you with top benefits of Ere4u – restaurant billing software. Ere4u is just not a simple billing software. It is an advanced restaurant billing software that can handle many of your business activities along with billing. So without wasting any time, let us have a look at them in brief:
1. All your operations as a single system
Modern restaurant billing software can handle most of your business's backend activities. It can act as a one single software that can handle a large number of your business operations. In addition, it can also play a great role in the revenue generating activities - planning, marketing, and analytics. You can also connect other systems in your business with Ere4u effortlessly.
2. Run your software anywhere, anytime
Ere4u restaurant billing software offers mobility. Using Ere4u will eliminate the need to sit behind a desk at your restaurant anymore. You can oversee your restaurant's operations from anywhere and anytime. You can run this billing software on any mobile device, be it a smartphone, iPhone, tablets, iPads or any other mobile device. You are just required to incorporate the billing software into your device and you are all set to go. You can operate it from any location. You just need to have access to the internet.
3. GST enabled
Ere4u is a GST-Enabled billing software for restaurants. It can enable you to send out GST invoices to your customers by means of SMS or email.
So, what are you waiting for? Give a call on 9893544430 to get a free demo of Ere4u billing software now!